Mentorship Matters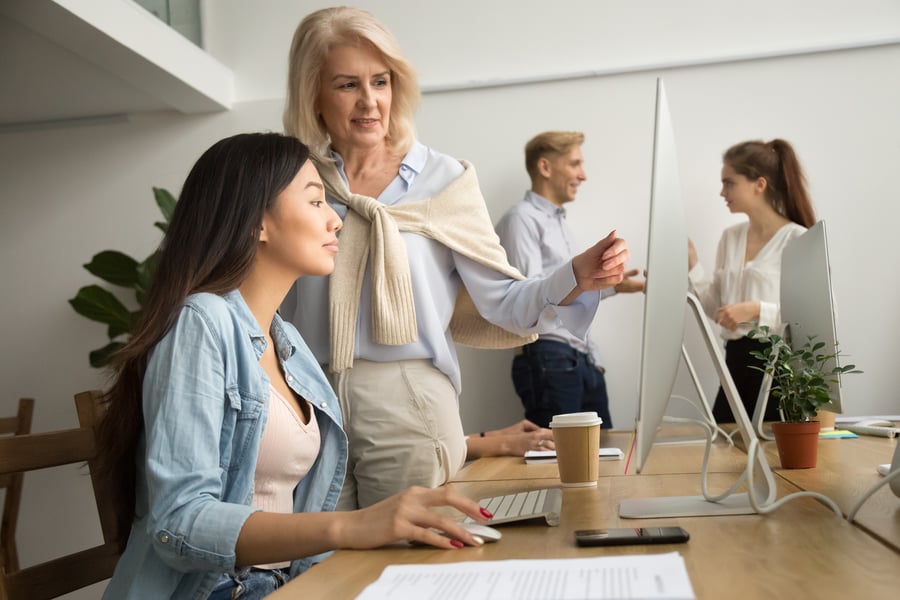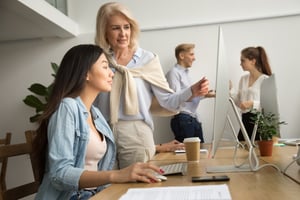 Imagine highly tailored, expert advice for both professional and personal life goals and transitions being readily available. That's what a skilled mentor can provide. Having an engaged, intentional, and present mentor helps support and build talent. Beyond talent and skill building, research points to a trusted mentoring relationship serving to bolster emotional wellbeing for mentees as well. No wonder people seek out mentors, and that people who seek out mentors are promoted more frequently.
There are benefits to the mentors, too. In some studies, mentors report feeling like their jobs are more meaningful. Mentors also report lower levels of anxiety as well, according to the HarvardBusiness Review. This relationship can be one that both parties learn from and creates a mentor pipeline with current mentees becoming future mentors.
Fortune 500 companies are keyed into the benefits of mentorship, with 70 percent of these large corporations having a program. Such programs can help boost a business' ability to attract and retain talent. This can be for all candidates but also for diversity and inclusion, since women and people of color report having a mentor as a valuable component of their success. This is particularly true for hiring Millennials, who want career direction and work that is meaningful and may benefit from strong mentoring programs.
With an ever-more-mobile workforce, mentorship can ensure your top performers share their knowledge in case they leave, per an article in Feedstuffs. Likewise, newer employees onboard more successfully when they have a strong mentor. Beyond sharing how processes and systems work at a particular company, mentors can also share culture tips that can help a newer employee integrate into an office community more seamlessly.
Whether a formal program or a more informal relationship, mentorship is something employees want but may not know how to get, says HR Dive. More than 75 percent say mentorship matters, but only 56 percent have ever had a mentor. Individuals currently being mentored falls to only 37 percent. HR departments of companies of all sizes should be prepared to answer questions about programs during interviews and hiring.
A few keys to building a successful mentorship program include:
Provide opportunities for feedback. For mentors looking to improve and open to constructive criticism, one of the best resources may just be anonymous feedback. It would only be truly anonymous, but also likely most valuable, after mentoring enough people to find trends or notice areas from improvement. Science reports that, while face-to-face conversations are important for mentoring relationships, anonymous feedback is equally important for individuals to improve.
Look beyond direct managers/supervisors for mentors. An article in Forbes points to a manager's role as one of ensuring projects are successful and business goals met. That can get in the way of working on an individual's development. Look outside of direct management for an employee's mentor so the mentor can focus on the individual.
Invest in your mentoring program, and the mentors themselves. Creating a program is exciting and full of potential but taking time to train mentors is essential. Success happens after the launch of the program after all. Be sure you're spending as much time developing your mentors, says the Association for Talent Development. If they feel like they are expected to just know what to do, they may struggle. Creating guides, training, and direction to mentors helps them feel successful from the start.
Make time for connection and conversation. Nearly half of mentees report that getting time with the mentors proves challenging. As an organization, consider how you can support a successful connection by carving out regular time for both individuals to be available. Trust building, boundary and expectation setting, and more all take time.
Read more:
Mentoring Can Supercharge Your Staff
Most Employees Say a Mentor Is Important, but Few Have One
Want to Become a Better Mentor? Ask for Anonymous Feedback
Stressed at Work? Mentoring a Colleague Could Help