8 Ways to Relate to Time as a Realist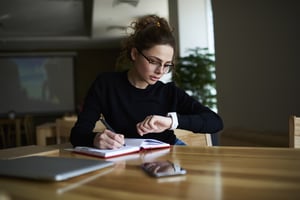 Productivity and time management expert Julie Morgenstern believes people can be grouped two ways when it comes to time management: Time realists and time optimists.
Time realists consider how long things take and what is going on in any given day. Time optimists are guided by what they hope to get done.
Morgenstern argues that time optimists get overbooked and overwhelmed when things don't, or can't, get done in time. To help people be better realists, she offers these tips in The New York Times:
Pause before the yes


Think about how long a task will take and clearly let stakeholders know what's possible, or what will have to be postponed to make a new priority happen.
Plan for two days


Look ahead and see how the puzzle of your next few days looks as you consider where critical tasks will fit in.
Batch activities


Your concentration threshold will help you divide your days by administrative tasks, creative ones, and fit in hobbies and socializing. Then, create mini-deadlines for the most dreaded tasks.
Deal with email


Set aside time for regular email maintenance. If it takes less than five minutes, reply and deal with it immediately. Drowning in old email? Sort unread emails by date, and simply delete the oldest.
Avoid too many tools


Pick the four communication platforms—including email, texts, phone and social media messaging tools—you can manage and only manage those.
Set a timer


Work on things you'd procrastinate on in timed intervals and don't stop until the timer goes off.
Pick a calendar


Rather than flip between a paper or electronic calendar, pick one and stick with it. Then, add your to-do list to it.
Carve out "me time"


The most productive people claim personal time and make it part of their schedule. Whatever it is you love to do, create time for it the same way you do the things you have to do.
Read More:
The New York Times – It's Time to Become a Time Realist